Are you ready to brighten your brand?
Creating happier dental patients and a more profitable dental practice with FUN, AFFORDABLE, practice-building programs.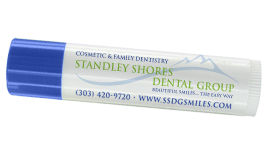 TOP 10 GIVEAWAYS
to use in your dental practice
Do you want to offer your patients unique and useful giveaways?
Your practice is established and you want your current and future patients to feel welcome, comforted and appreciated. When it comes to patient giveaways and community goodwill, you don't want to be boring and ordinary with your giveaways. It's time to establish yourselves as "the cool and caring" dental office in your community with items that include organic lip balm with UV and SPF protection, phone cases, t-shirts, stress relievers, plush hot/cold packs, phone chargers and travel mugs.
Are you overwhelmed with marketing your dental practice?
You want to continue to build a strong and thriving practice through marketing and patient giveaways, but you are busy with patients all day and don't have time to come up with a system for choosing and ordering the best branded promotional items for your patients.
Do you want to have professionally designed marketing materials and custom branded patient gifts?
You need loyal, grateful patients who look forward to receiving their branded promotional items from your practice and, in turn, refer their friends and family.
"We have been so pleased with the lip balm that we order for from Luminate Advertising for our patients over the past several years. It makes sense for dentists to give this as a gift to our patients since we spend so much time suctioning and drying their mouths. Luminate does an amazing job making sure our practice logo and phone number are on the label which is fully customizable , so it serve..."...
Read more
Matt Rolfson, DDS
Castle Pines Dental Care, Castle Rock, CO
"We have been using lip balm from Luminate Advertising for six years and particularly find it very beneficial that the labeling is fully customizable for our practice. It is a simple but very effective method to distribute our name and brand recognition throughout the community. Most importantly, we are helping our patients by promoting the use of a UV protective product for their lips. Our p..."...
Read more
Jeffrey A. Stang, DDS
Standley Shores Dental Group, Westminster, CO